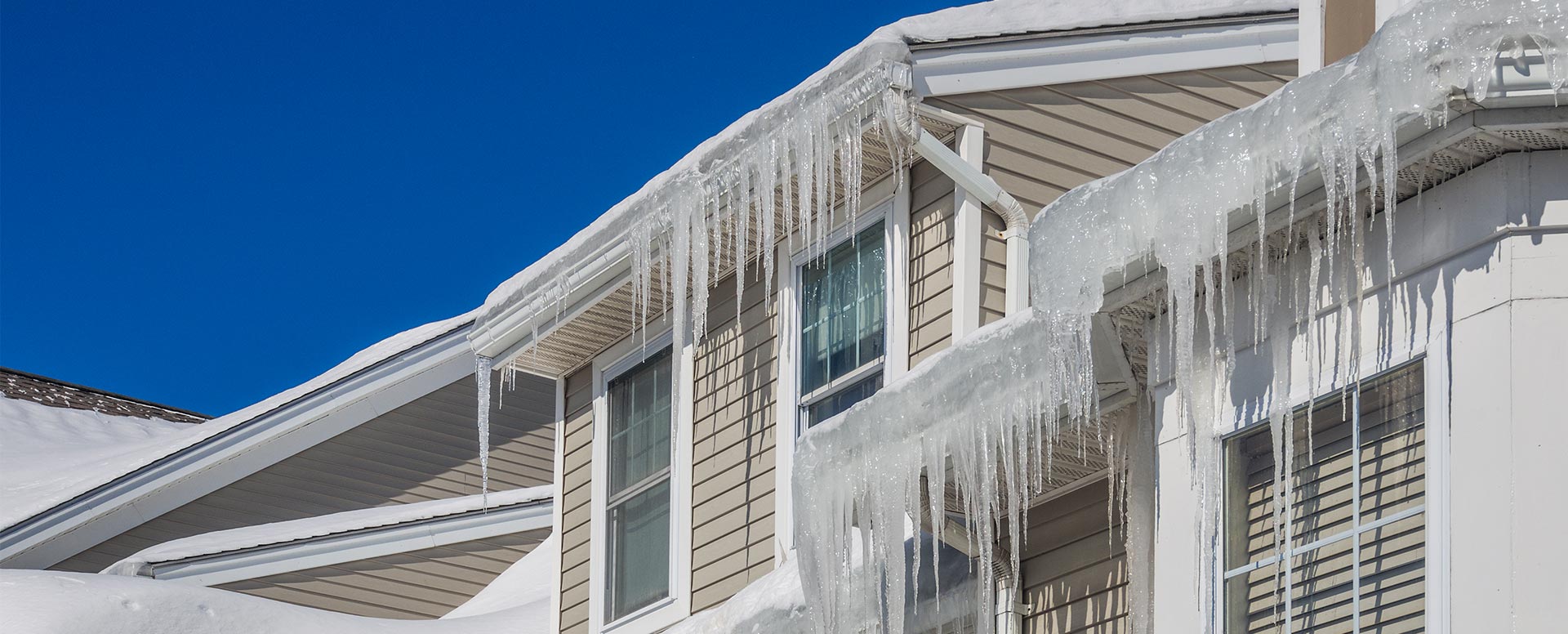 Greater Boston and MetroWest Ice Dam Removal and Roof Shoveling
Prevent Ice Dams on your Boston, Arlington & Metro West area roof.
What is an Ice Dam?
An Ice Dam is a lump or chunk of ice that can form at the edge of your roof in winter and colder, snowy conditions. Ice Dams damage both your roof and the inside of your home, as well as your gutters and downspouts.
An ice dam forms when the roof over your house or attic gets warm enough to melt the underside layer of snow on the roof. The water trickles down between the layer of snow and the shingles until it reaches the eave of the roof. The eave of the roof stays cold because it extends beyond the side of the house. That is where the water freezes and gradually grows into a chuck of ice.
If your roof has a flatter pitch it is even easier for an ice dam to set in. Gutters at the eaves can also trap snow and ice. If snow and ice builds up enough in the gutter, it can provide a foundation for an ice dam.
Ice Dams can cause serious damage. It will cause a backup and will drip into the insulation and down into the ceilings and walls beneath the eave. This can ruin sheetrock, paint, and even gutters and shingles if the ice dam breaks off. If the Ice Dam does break off, it can seriously damage anything it lands on such as your car, property, and more.
ROOF SHOVELING TO PREVENT ICE DAMS
Premiere Roofing understands how Ice Dams works and the damage they can cause. The experts at Premiere Roofing can help prevent an ice dam and any damage before it's caused with professional roof shoveling and cleaning during the winter season.
Protect your Greater Boston Area & MetroWest Area Roof from Ice Dams Today
With the most prevalent and historic architectural styles in Massachusetts and throughout New England, Boston homeowners understand each home and roof is unique and needs to be protected. From contemporary home styles in Greater Boston such as Victorian, Queen Anne, Tudor Revival, Italianate, and more, Greater Boston area homes are unique and need unique roofing solutions. Roof repair and roofing installation for these unique and historical Greater Boston area homes takes experience and skill and Premiere Roofing offers the professional roofing techniques and skill you need for all your roofing services to ice dam removals. When it comes to something as important as your home, roof, and family, you don't want to rake any risks or chances with winter and snow damaging your property. Take preventive measures with Premiere Roofing and allow our team to professionally shovel your Boston area roof and ensure peace of mind ion your Greater Boston roofing and ice dam removal needs..
Call for an estimate today 781-646-0051 and get started.
Premiere Roofing serves Arlington, Waltham, Boston, Framingham, Newton, Brockton, Somerville, Sudbury, Weston, Wellesley, Wayland, and the surrounding Greater Boston and MetroWest areas.